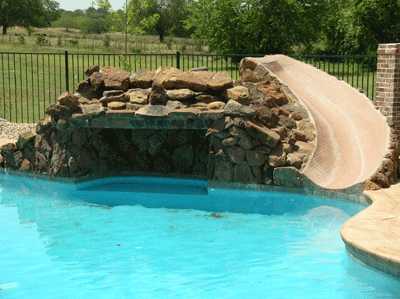 Equipment Repair and Installation
Intelliflo® Variable Speed Pumps
Wireless Automation
Salt Systems
Heaters
Filters - Cartridge & D.E
Time Clocks
IntellipH
Cleaners - Suction and Pressure-Side
Pool & Spa Lights, Plumbing Leaks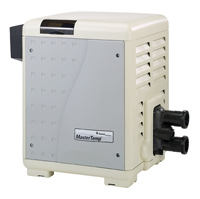 CLICK HERE to view heater brochure
CLICK HERE to view pump brochure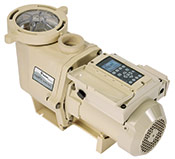 CLICK HERE to view filter brochure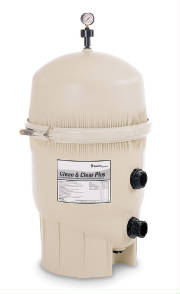 CLICK HERE to view IntellipH brochure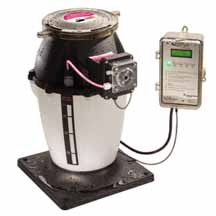 CLICK HERE to view cleaner brochure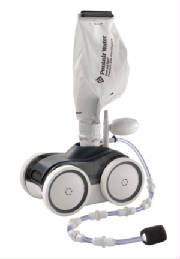 IntelliChlor Salt Chlorinator
CLICK HERE TO WATCH VIDEO CLIP!
CLICK HERE to view IntelliChlor brochure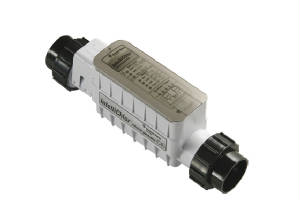 Turn ordinary salt into chlorine right in your pool
Electrolytic chlorine generation (or salt chlorine generation) with IntelliChlor® Salt Chlorinator is the easiest, most effective, and convenient way to keep your pool water sparkling clean and sanitized.
The IntelliChlor® Salt Chlorinator uses table salt to produce all the chlorine your pool needs, right in your pool – safely, effectively, and automatically.

An Eco Select™ Choice: Using only natural table salt, the IntelliChlor® Salt Chlorinator automatic chlorine generator creates pure chlorine in the pool and eliminates the need
to buy, store, and add harsh chlorine products manually. In effect, fewer resources are used in the production, packaging, and transportation of these chemical compounds.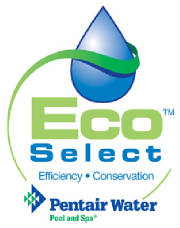 Features
Cell blades rated for 10,000 hours of operation – five years of reliable chlorine output under normal operating conditions
Full diagnostic capabilities, including cell life tracking that communicates remaining hours of cell life in real-time.
Captures all performance data daily (production settings, hours of operation, chlorine output, cell cleaning cycles, salt readings, and water temperature averages)
Push-button operation and easy-to-view displays enable fast checking of salt levels, cell cleanliness, sanitizer output, and water flow
Automatic shut-off feature protects the unit and prolongs cell life under low water temperature conditions
On-time cycling prevents calcium and scale build-up to maximize cell life
Ability to communicate with IntelliTouch®, EasyTouch®, and SunTouch® Automation Systems
Certified to UL 1081 standard for safety

Eco Select™ is a trademark of Pentair Water Pool and Spa, Inc.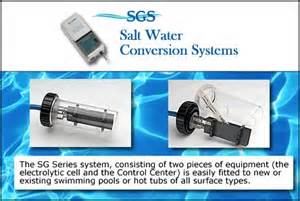 Saline Generating Systems offers three innovative products for the sanitization of residential swimming pools:
the Breeze 320, Breeze 540 and Breeze 760 Salt Chlorine Generators.
The Breeze Series is proudly made in the USA, and designed with the consumer
in mind with its simplicity of operation, dependability and increased longevity.
The Breeze Series system, consisting of two pieces of equipment (the electrolytic cell and the Control Center)
is easily fitted to new or existing swimming pools or hot tubs of all surface types.
The cell is plumbed into the return-to-pool line after the filter, heater, etc.
The Control Center is spliced into the filter pump timer controls.
The Breeze Series system should be installed by a
trained professional or certified electrician.
EasyTouch® Control Systems
CLICK HERE TO WATCH VIDEO CLIP!
Seen the new pool remote? (Hint: It starts with and "i")

Pick up your iPhone® and talk to your pool!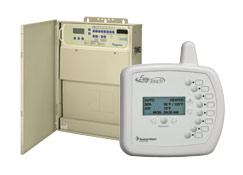 CLICK HERE to view Easy Touch Control System brochure
Setting the standard for operating simplicity

EasyTouch systems are available for separate pools and spas, as well as pool/spa combinations with shared equipment.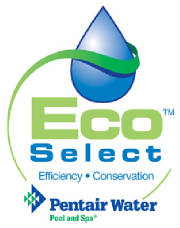 You select from systems that control 4 or 8 accessory functions. All functions are controlled with one-button access from
the totally self-contained load center. Optional controllers are available.

An Eco Select™ Choice: By automating and synchronizing equipment scheduling, EasyTouch® Control Systems
can optimize energy use and equipment performance, while preventing problems and waste when users rely on
their memories or limited time clocks to operate or deactivate equipment.
Features
All functions controlled with easy, one-button access from the self-contained load center or optional controllers.
No need to memorize operating sequences, open and close valves, or reset time clocks and thermostats.

Optional controllers for added convenience: Indoor control panel (for 4 or 8 circuit systems), a wireless controller (for 4 or 8 circuit systems),

A QuickTouch® 4-function wireless remote, a Four-function spa-side remote, a 4-button spa side remote, and iS10 spa-side remote.
Built-in diagnostics include automatic verification of the display, microprocessor, switches, indicators, relay outputs, valve outputs,
Sensor inputs, and communication ports as well as a diagnostic screen that reports failures for troubleshooting and repair purposes
Includes 125 Amp Breaker Base
UL and CUL approved
New EasyTouch Features include:
ThermalFlo heat pump integration
Support for 2 VS or 2 VF Pumps
Supports 8 Feature circuits
MagicStream Laminar support
Control Panel Lockout
IntelliBrite pool and spa light support
iS10 spa-side remote support and control of IntelliFlo Pump
Eco Select™ is a trademark of Pentair Water Pool and Spa, Inc.